FOR IMMEDIATE RELEASE
October 10, 2023
Indian Gaming Association and G2E Celebrate Indigenous People's Day 2023 Global Gaming Expo with Indian Country Women Leaders Panel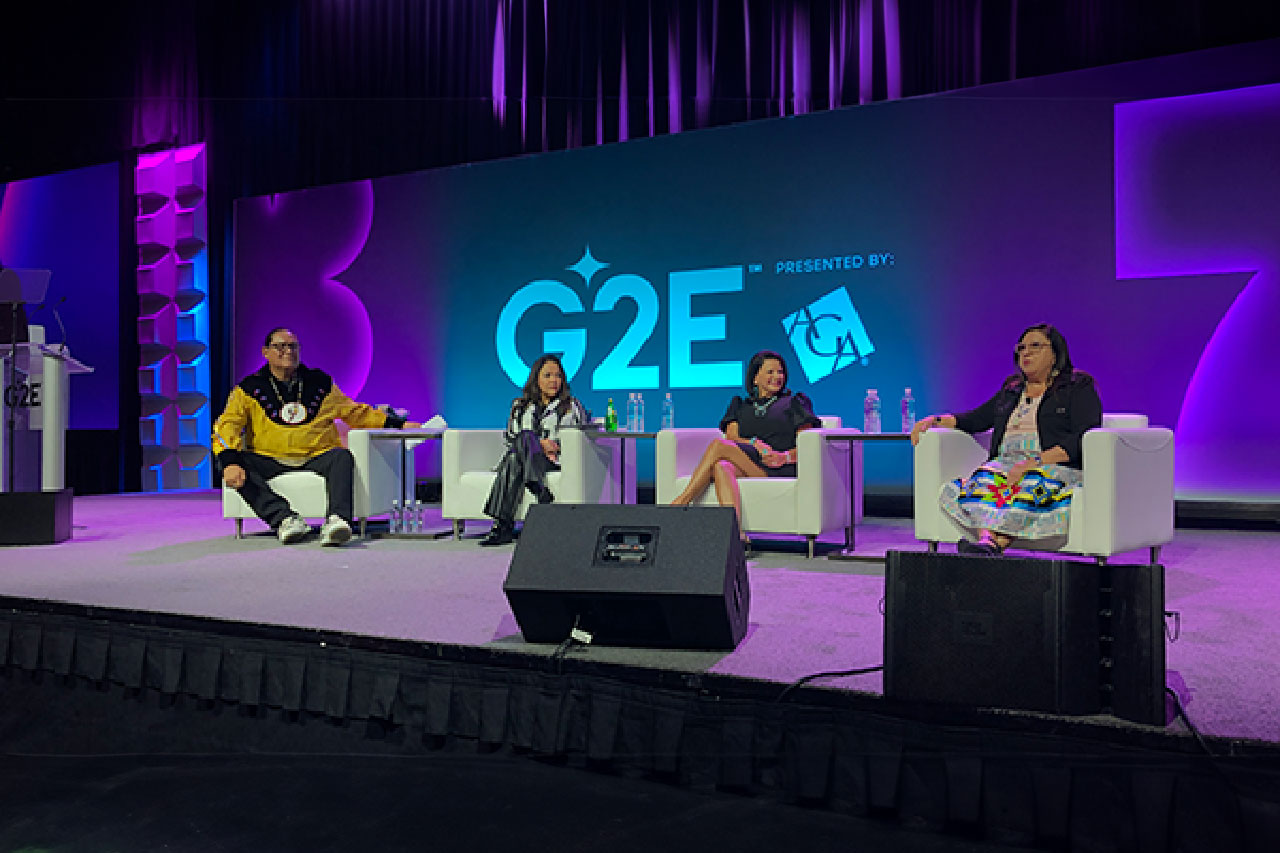 Las Vegas, Nevada – Global Gaming Expo (G2E) 2023 finished off its first day of the annual show on Monday at the Venetian Expo by recognizing Indigenous People's Day with a full day of panels and educational workshops, which included a track focusing on Indian gaming-related topics and issues showcasing the success of tribal government gaming.
To celebrate Indigenous People's Day and recognize the decisive role of Indian Country Women leaders, the mainstage keynote track at G2E hosted the final day's keynote address entitled "Shattering Ceilings: Women Leaders in Tribal Gaming."  Indian Gaming Association Chairman Ernie Stevens, Jr moderated it.  The panelists included Holly Cook Macarro, Principal at the Angle, Chief Executive of the Mille Lacs Band of Ojibwe Indians Melanie Benjamin, and Chairwoman of the Poarch Band of Creek Indians Stephanie Bryan.
Chairman Stevens opened the session by sharing, "On Indigenous People's Day, our keynote celebrates women's influential roles in tribal gaming, business, and politics. This event highlights the strength and leadership of these trailblazers, underscoring their pivotal contributions to policymaking, operational advancements, and economic transformation within Indigenous communities.
Stevens shared a message about the importance of acknowledging Indigenous People's Day. He said, "At its core, Indigenous People's Day is an opportunity to tell the story not only of our perseverance but our essential contributions to this nation." Stevens noted, "It should be a well-known fact that our ancestors inspired the infrastructure of America's early democracy."
"Countless advances in American medicine, agriculture, and engineering, without the influence of native healers, farmers, and thinkers, would not have been possible.  It should be well known.  It should be a well-known fact that our ancestors inspired the infrastructure of America's early democracy.  Of course, even before being recognized as United States citizens, Native men and women warriors have stepped up to protect and serve our nation.  And this democracy is five times the national average." Stevens shared.
Before introducing the panelist, Stevens said, "I hope that we all take a moment to celebrate this Indigenous People's Day by trying to understand the true history of Native America, erase the myths and legends, not to dwell on the past, but to educate, heal, and honor the gifts that our ancestors have given us all.
He shared the importance of the session, recognizing the important role Native women play in Indian Country. He said, "Women are equal in our life and culture from day one.  Even today, Women play a dominant and amazing role in our world in helping our country be where it is today."
Stevens asked the panel their thoughts on the discussion title – "Shattering Glass Ceilings and what it meant to the panelists.
Holly Cook-Macarro shared her path working on behalf of Indian country and the importance of becoming the authentic voice for Indian Country. She said, "It is important that we convey our agents and tell our stories.   She added, "I think that was probably my earliest experience of, you know what, I'm here to do a job, even though I'm in a room full of non-Indians, non-women, and it's been a good ride, being part of shattering that glass ceiling knowing that people finally understand that there is no better person to learn from than those of us who know our story.
Chairwoman Bryan also shared, I have served for many years in tribal leadership with eight men sitting around the table with me, and of course, they will say that she is a woman, and she will roar, so watch out.  Adding, "But it's those challenges that we go through, and just people who helped shape my life is why I'm on this global stage today to tell the story, shattering glass ceilings.
Chief Executive Melanie Benjamin also shared her thoughts, adding, "I've had the honor and the privilege of being elected every four years. And when I think about where I come from.  We have a wealth of talent there on our reservation. We have ceremonial people, we have medicine people, we have teachers, we have artists, we have singers, all those people that give me their strength. So, when I walk into a room, I have shattered those ceilings because of those people.
Chairman Stevens then asked the panelists' thoughts on the success of Tribal Gaming. Chairwoman Bryan said, "It is important to look at what gaming has done.  For tribes, for my tribe, gaming generated the ability to operate our government member benefits, health care, housing, and education.  Bryan added, "So what gaming revenue has given my tribe and many other tribes the opportunity to do what we need to do. Bryan shared the success of Poarch Band of Creek Indians because of gaming, "Today, we're affecting the quality of life for over 25,000 people, and over the years, we went from almost $200 million in gaming to this year we will be around two billion."
When Stevens asked closing thoughts about the advice the panelist would give the young Native Women, Macarro said, "I look at our youth now and am so in awe of them. I already see they are brave in a way I don't remember when I was their age. My message to young women leaders is to keep it up and be brave when you walk into those rooms, knowing that you are the best voice for your community.
Chairwoman Bryan said, " I would encourage our leaders today to continue lifting our young women to build the confidence they need. They are great, and they are fearless. But can you imagine if we give them the knowledge they need because knowledge creates confidence that they can be on a stage like this to fight to protect what we have built in Indian country?"
Chief Executive Benjamin said, "I speak from a traditional standpoint. Incorporating those values into your life will give you strength, a spiritual strength that we all need."  Adding, "When we talk about strong women, we will have strong kids, strong daughters, and strong sons, and we need that balance. We need to have the men and the women working hand in hand."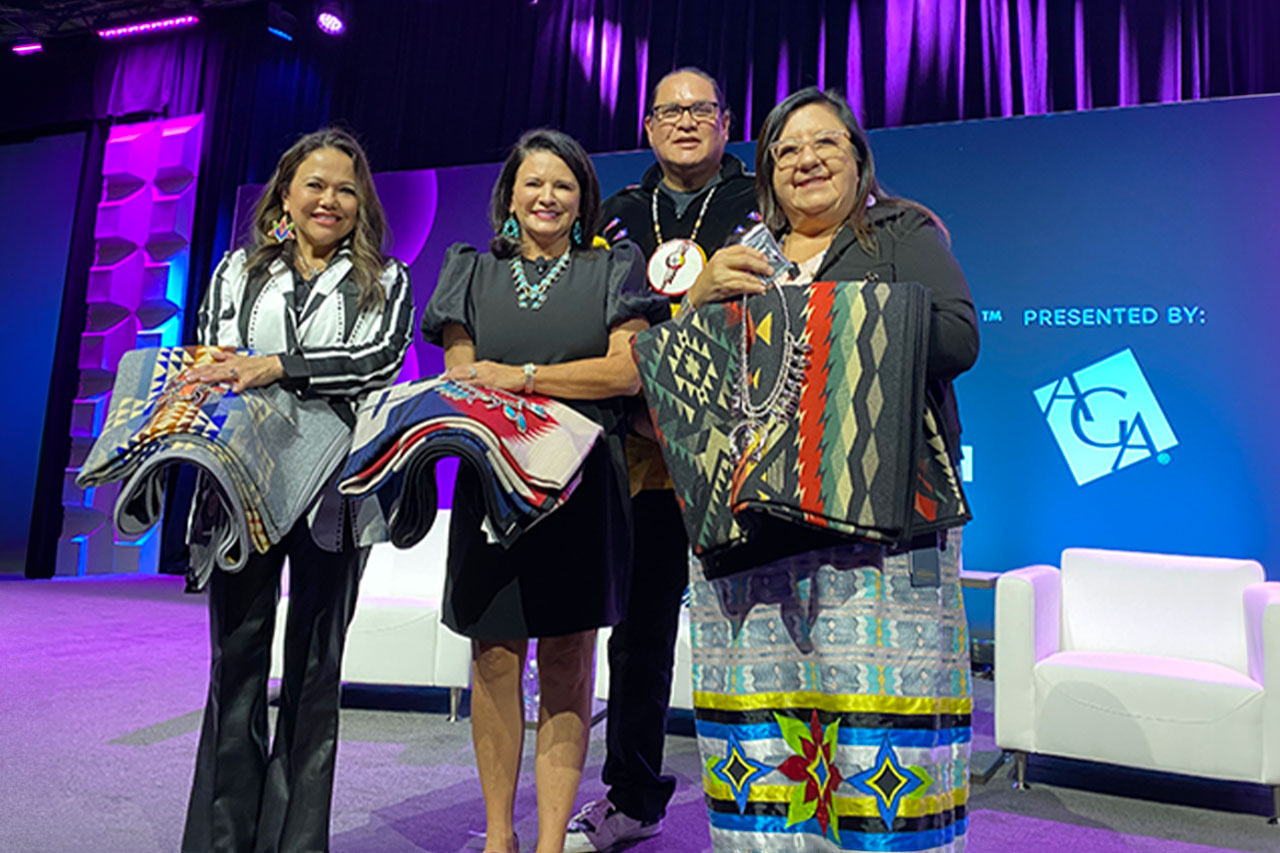 ###
About the Indian Gaming Association: The Indian Gaming Association (IGA), established in 1985, is a non-profit organization of 184 Indian Nations with other non-voting associate members representing organizations, tribes, and businesses engaged in tribal gaming enterprises from around the country. The common commitment and purpose of IGA is to advance the lives of Indian people economically, socially, and politically. IGA operates as a clearinghouse and educational, legislative, and public policy resource for tribes, policymakers, and the public on Indian gaming issues and tribal community development.
About the Poarch Band of Creek Indians: The Poarch Band of Creek Indians is the only federally recognized tribe in Alabama. From hospitality to aerospace, we continue to operate in a variety of industries across the World. Read more about our Tribe here.